An innovation workshop is an interactive session designed to help participants generate new ideas, come up with creative solutions and develop innovative processes. During an innovation workshop, participants can collaborate and brainstorm to discover new perspectives and solve existing problems.
Innovation workshops can be organised for various purposes, such as developing new products, improving existing processes or discovering new markets and opportunities. Often, these workshops are led by facilitators with expertise in creativity, design thinking, lean startup or other innovative methodologies.
In this blog, we reflect on organising innovation workshops. How do you make sure the workshop is a success? We give you 7 tips.
Do you want to innovate and have your idea developed in collaboration with Beeliners? We would love to help you! Feel free to drop by for a cup of coffee and we will be happy to discuss the possibilities with you.
1. Set clear goals
Decide in advance what you hope to achieve with the workshop. Set specific and measurable goals so you can evaluate afterwards whether the workshop was a success.
2. Select the right participants
Choose participants with diverse backgrounds and skills to get a wide range of ideas and perspectives. It is also important to ensure that participants are enthusiastic about the topic and willing to actively participate.
3. Plan the workshop carefully
Make sure the program is well thought out and structured. Give participants clear instructions on what is expected of them and how they can contribute to the workshop. Also plan sufficient breaks and keep the workshop on time.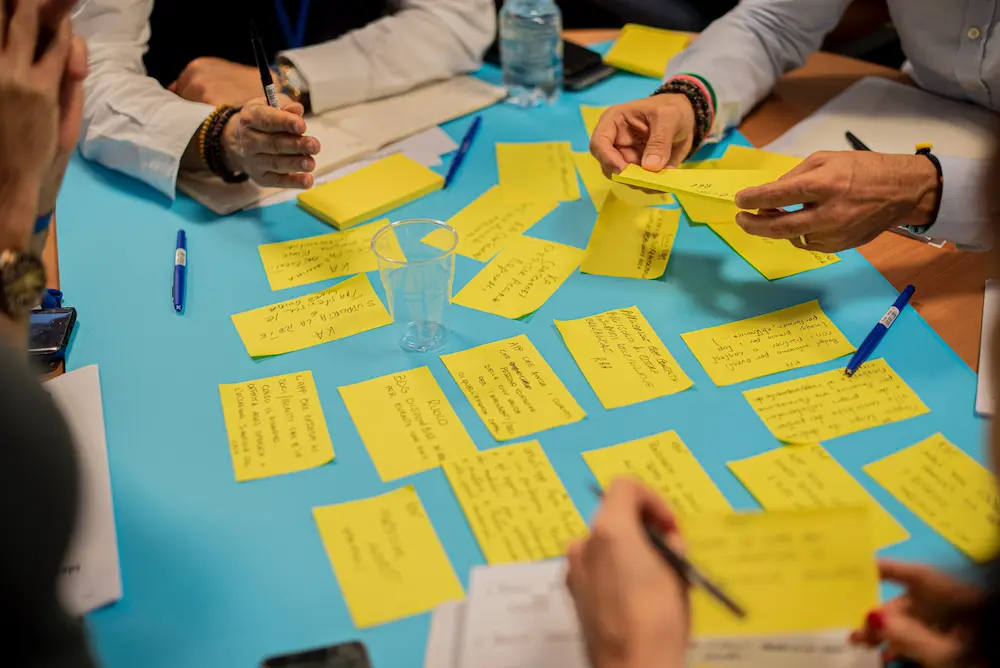 4. Use innovative methods
Choose innovative methods and tools that fit the goals of the workshop. There are several creative and innovative methods available, such as design thinking, brainstorming and mind mapping.
5. Provide an inspiring environment
Choose a location that stimulates creativity and cooperation. Provide enough space and materials for participants to work out ideas and make prototypes.
6. Provide good coaching
Provide experienced and expert facilitation. Facilitators with expertise in innovative methods can help guide the process and solve problems that arise during the workshop.
7. Follow-up
Evaluate the results of the workshop and work with the participants on a plan for follow-up steps. Ensure that clear action points are formulated and follow-up takes place to ensure that the ideas and concepts generated during the workshop are developed and implemented.
Working on your prototype together with Beeliners
Do you have a good idea for a product, service, process or technological innovation? And would you like to develop your idea into a prototype?
When working with Beeliners, we help you throughout the process. We think along with you and create a prototype together. We would love to help you! Feel free to drop by for a cup of coffee and we will be happy to discuss the possibilities with you.
Also interesting
What is the difference between improving and innovating?

Many organisations like to come up with something new in the market. Whether it is an improved product or something completely new, consumers expect companies to continuously keep up with the latest technologies. Are you not meeting this expectation? Then chances are your consumer will switch to your competitor. By… Read More

How do you become innovative? Create a creative mindset

Your company wants to enter the market with new ideas. Expand the existing product or come up with something completely new. But what if ideas just don't come? What if both you and your colleagues get stuck? So how do you make sure you still come up with something new?… Read More

What is innovation?

As an organization you want nothing more than to sell a product or service with which your target group is more than satisfied. But the rapid technological developments may well make your product or service obsolete sooner than you had envisaged. By innovating you ensure that your product or service… Read More