Almost everyone is conscious about energy due to the current high prices. The next step is gas-free living. About 95% of homes use natural gas for heating the house, hot water and for cooking. So a lot will have to be done to live gas-free! What alternatives are there to heat your home?
When you want to live gas-free, you don't want to compromise on comfort. So you want to keep a warm house, have a nice hot shower and keep a hob for your meals. Fortunately, there are already many alternatives to your high-efficiency boiler on the market.
In this blog article, we look at the alternatives to heat your home:
Also want to live gas-free? Download our free e-book and find out what you can do.
1. Electric water pump
An electric water pump makes it possible to go completely off natural gas. It does everything a normal central heating boiler does: heat the house as well as supply hot water. However, an electric pump is a whole lot more sustainable. In fact, your CO2 bill for heating falls by around 40 to 55%.
An all-electric heat pump runs on electricity. It extracts heat from the air, soil or groundwater and turns it into a usable temperature. To distribute that heat, the heat pump has a hot water reservoir. This makes the pump the size of a tall refrigerator.
The electric water pump works well in combination with floor or wall heating or radiators that give off enough heat at low temperatures. It is also very important to have your house well insulated.
2. Hybrid water pump
Don't want to go completely off gas immediately, but do want to do so partially? Then a hybrid water pump might be the thing for you. This pump works together with your boiler and uses electricity instead of gas. The hybrid water pump allows you to use up to 60% less natural gas to heat your home.
The hybrid water pump draws energy from the outside air. This makes the pump an energy-efficient device. The hybrid water pump is connected to your boiler. Initially, the water pump will start heating your home. It will only enlist the help of your boiler when it is too cold outside to heat your house properly or when it takes too long to get the house up to temperature. In addition, the boiler makes sure you have hot water in your home.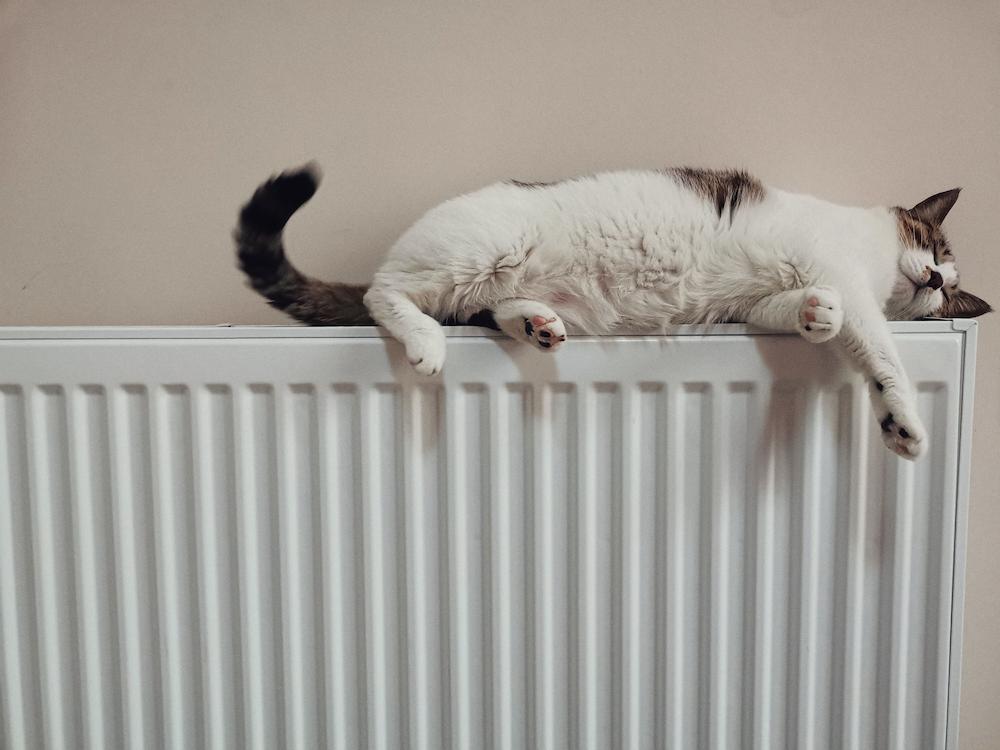 3. Heat grid
A heat network heats several houses simultaneously in the same neighbourhood. As a result, a gas-fired boiler is no longer needed in every house. The government expects a lot from this type of heat network. The ambition is to have a quarter of neighbourhoods equipped with a heat network by 2030.
A heat network is also called a district heating or block heating. In fact, it is one large central heating installation located somewhere in the area with a central heat source. Through pipes, the hot water flows to the houses connected to the network. In each house there is a small installation (delivery set). This is fitted with a heat exchanger and distributes the heat to your heating and taps. The cooled water runs back to the central source.
4. Infrared panels
An infrared panel can serve as good auxiliary heating in your home. As main heating, an infrared panel is only suitable when your house is particularly well insulated.
You can place or hang infrared panels wherever you want. This could be on the wall or on the ceiling. They emit radiant heat to a certain spot in the room. For example, when the panel is aimed at your seating area. When you sit in the radiant heat of the panel, the warmth will feel comfortable, even if the temperature in the rest of the room is lower.
5. Pellet stove or biomass boiler
Using a pellet stove or biomass boiler, you can heat your home completely without natural gas. Instead, you use wood pellets.
Pellets are grains of wood. A separate pellet stove has enough power to heat one room in your house. With a pellet stove-CV, you can heat the whole house. The biomass boiler is a central heating boiler for both your heating and hot water.
There is still much debate about burning wood. This is because it also releases CO2 and fine dust. These fine particles are harmful to your health. So whether a pellet stove or biomass boiler is right for you is something you should decide for yourself.
Developing gas-free innovations together with Beeliners
Our colleague Henk has decided to go gas-free. To do so, he has developed his own smart device that converts electricity into heat. Check out the interview with Henk in the video below.
Do you have a good idea for a gas-free innovation? And would you like to have your idea developed in collaboration with Beeliners? We would love to help you! Contact us without obligation or drop by for a cup of coffee and we will be happy to discuss the possibilities with you.
Also interesting
Sustainability: Subsidies and funding

There are already many reasons to want to save on gas. Think cost savings and the environment. But with the right subsidies and financing, it becomes even more attractive. But what subsidies and schemes are actually available when it comes to saving gas? With the right tools, you can… Read More

9 tools to help you save gas

Of course, saving gas is very easy by turning off (or turning down) the heating or switching to electric cooking. But not everyone is eager to spend whole days in the cold. Fortunately, there are a lot of tools on the market that will help you save gas without having… Read More

How does solar energy work?

The accessibility of solar panels has skyrocketed in recent years. More and more households are choosing to have solar panels installed to save on their energy consumption. But how does solar energy actually work? The sun is an inexhaustible source of clean energy. With the help of a solar panel,… Read More