Of course, saving gas is very easy by turning off (or turning down) the heating or switching to electric cooking. But not everyone is eager to spend whole days in the cold. Fortunately, there are a lot of tools on the market that will help you save gas without having to go cold straight away.
Some people are lucky and are stuck with their gas and electricity contract for quite some time. But there are more people with less luck. With the hefty rates you have to pay for gas, it makes sense to start paying attention to your consumption. With the tools covered in this blog, you can reduce your gas consumption.
Also want to live gas-free? Download our free e-book and find out what you can do.
Small adjustments
Many tools are quickly and easily applied. Consider, for example, the following:
1. Automatic air vent
Bleeding the heating system becomes a lot easier and faster with an automatic air vent. This is because it ensures that your entire central heating system is bled automatically. There is only one thing you need to take into account: the air vent should be located at the highest point of your central heating system.
An automatic air vent works as follows: There is a float in the air vent. This floats on the water level and keeps the valve closed. When air collects in the float chamber, the water level will drop and thus open the vent valve. The collected air can now escape, causing the water level to rise again.
2. Draft strips
Using draught strips at your doors and windows is a great way to keep out the cold. By installing a draught strip, you prevent drafts in your house. Draught can be prevented in two ways:
Draught tape: A draught tape is easily fitted to the door, window or even your letterbox.
Draft strip: These are placed at the bottom of the door.
You can also choose from different types of materials and apply draught strips to both internal and external doors.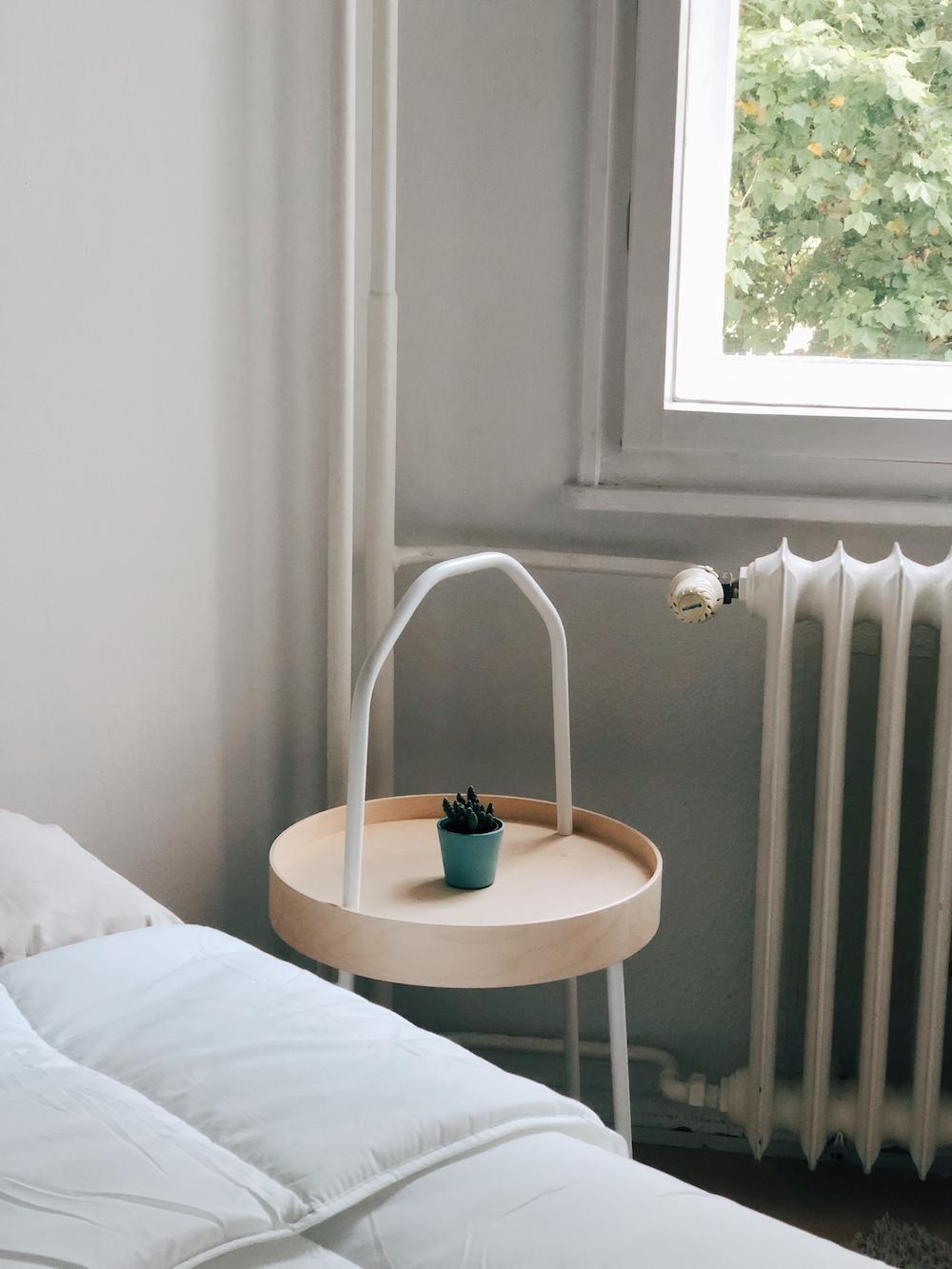 3. Radiator foil
A radiator radiates heat in all directions. So also to the wall. This heat disappears through the wall unused, so you unknowingly need more gas to fully heat your living room. Using radiator foil, you can reflect the heat back, into the room.
You stick radiator foil directly onto the radiator itself. This ensures that the air behind the radiator is still warmed up. As a result, just as much heat enters the room as without foil. However, you now need less energy to heat the room.
4. Radiator fan
One of the innovations that has grown enormously in popularity is the radiator fan. By placing it under your radiators, you can save up to 22% on your heating costs.
As soon as the radiator fan turns on, the fans blow air past the warm radiator into the room. This air has already been warmed by the heat from the radiator. So your room will heat up faster. In addition, you can also lower your central heating boiler to around 60 or 70 degrees. After all, it is no longer necessary to run your radiator at full strength.
5. Insulation
With the right insulation, you can save a lot of gas. In this case, we are talking about insulating your home or even the entire property. Examples of insulation include cavity wall insulation, floor insulation, roof insulation or insulation of central heating pipes.
Insulation can be a hefty investment. However, it does pay off to take this step at the right time. You can read more about insulation in our blog on a gas-free home.
6. HR boiler
Still using an old boiler to heat your house and water? Then replace it for a new type of HE boiler. This boiler easily uses 15 to 20% less gas compared to your old boiler. This investment pays off especially if your boiler is older than 12 years.
7. Hybrid water pump
Don't want to replace your boiler (yet)? Then you can also opt for a hybrid water pump. This is connected to your boiler and ensures that the boiler only switches on at a very low temperature to heat the house. The hybrid water pump will be enough to heat your home the rest of the time. It also runs on electricity instead of gas. So you can save up to 60% on your gas consumption.
Saving in the bathroom
Besides making the necessary adjustments to save gas, you can do even more in the bathroom to reduce your gas consumption.
8. Shower gutter
The ACO WTW shower gutter has a built-in heat exchanger. This ensures that cold water flows through the heat exchanger through the shower channel to the shower tap. While showering, the water is collected in the shower channel. The copper pipes of the heat exchanger transfer this heat to the flowing cold water. This ensures that your cold tap water can be heated up to as much as 20 degrees. From here, the water flows on to the shower tap. Your boiler or heat pump thus needs to supply less hot water to reach the desired shower temperature.
9. Showersave
With the Showersave, you can easily become more sustainable without compromising on design and comfort. It too features a highly efficient heat exchanger that uses the residual water from your shower to heat the supply line to the heating appliance.
Developing gas-free innovations together with Beeliners
Our colleague Henk has decided to go gas-free. To do so, he has developed his own smart device that converts electricity into heat. Check out the interview with Henk in the video below.
Do you have a good idea for a gas-free innovation? And would you like to have your idea developed in collaboration with Beeliners? We would love to help you! Contact us without obligation or drop by for a cup of coffee and we will be happy to discuss the possibilities with you.
Also interesting
Sustainability: Subsidies and funding

There are already many reasons to want to save on gas. Think cost savings and the environment. But with the right subsidies and financing, it becomes even more attractive. But what subsidies and schemes are actually available when it comes to saving gas? With the right tools, you can… Read More

How does solar energy work?

The accessibility of solar panels has skyrocketed in recent years. More and more households are choosing to have solar panels installed to save on their energy consumption. But how does solar energy actually work? The sun is an inexhaustible source of clean energy. With the help of a solar panel,… Read More

Tips for staying warm in winter

If you want to save as much gas as possible, you will choose to turn down your thermostat a little in winter. As a result, you might feel a bit colder than before. With some clever tricks, you can save gas without having to sit in your house shivering. Did… Read More